Here are some of our beloved German Shepherd Dogs in our program and a little about them! We only breed the highest quality out of health tested and titled parents. To do this, we travel world wide to find the best studs to breed to so we can add to our program. We only do 2 to 4 breedings per females lifetime and we like to retire them by 5 years old. All of our dogs live inside of our Indiana home in the Indianapolis area!

Standing at stud!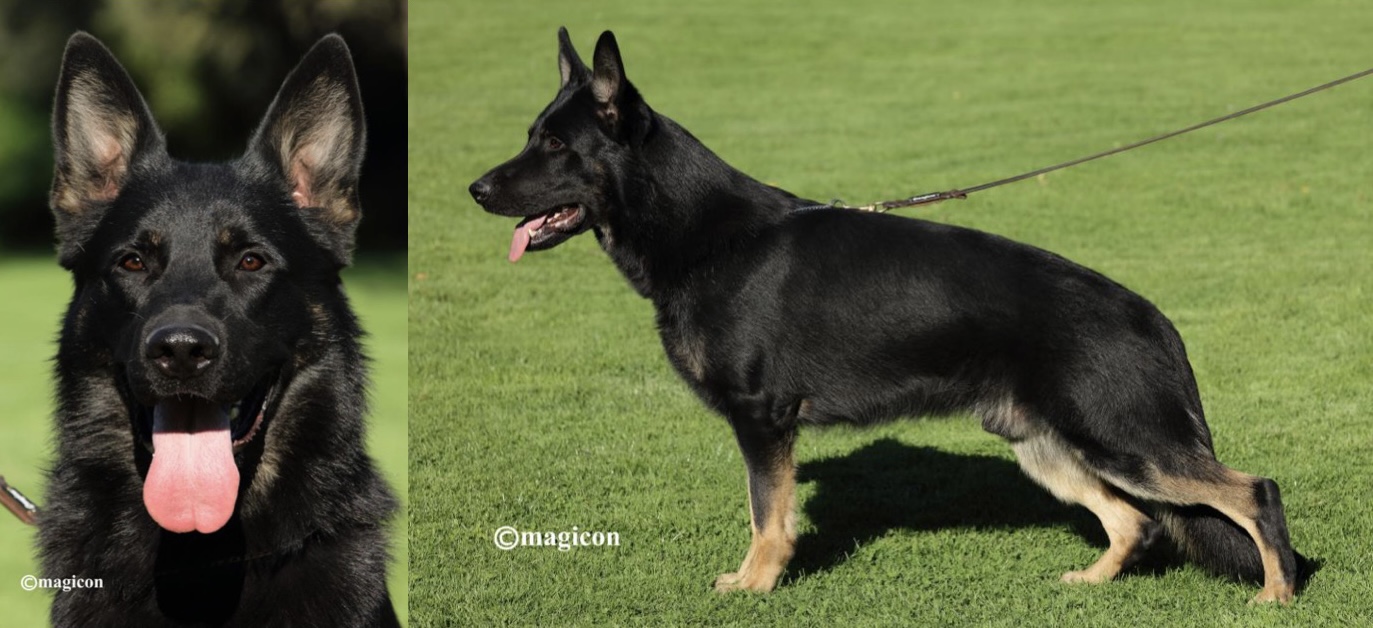 SG Enoks von Buchmann IGP3 ang A1 hips and elbows, LUW 0 DM clear
Enoks is an incredible working line male that has everything we would want to see in a stud dog. He is beautiful, he isconfident, he is social, he is strong! Enoks has a very high food drive for work and has a genetic full calm grip. I love this boys stability in every situation and environment. On top of being an incredible worker, he also has incredible structure. We are so proud to have him here at Aus Gerstbrei German Shepherds. Enoks is standing at stud to outside approved females. We can't wait to see what he produces for us!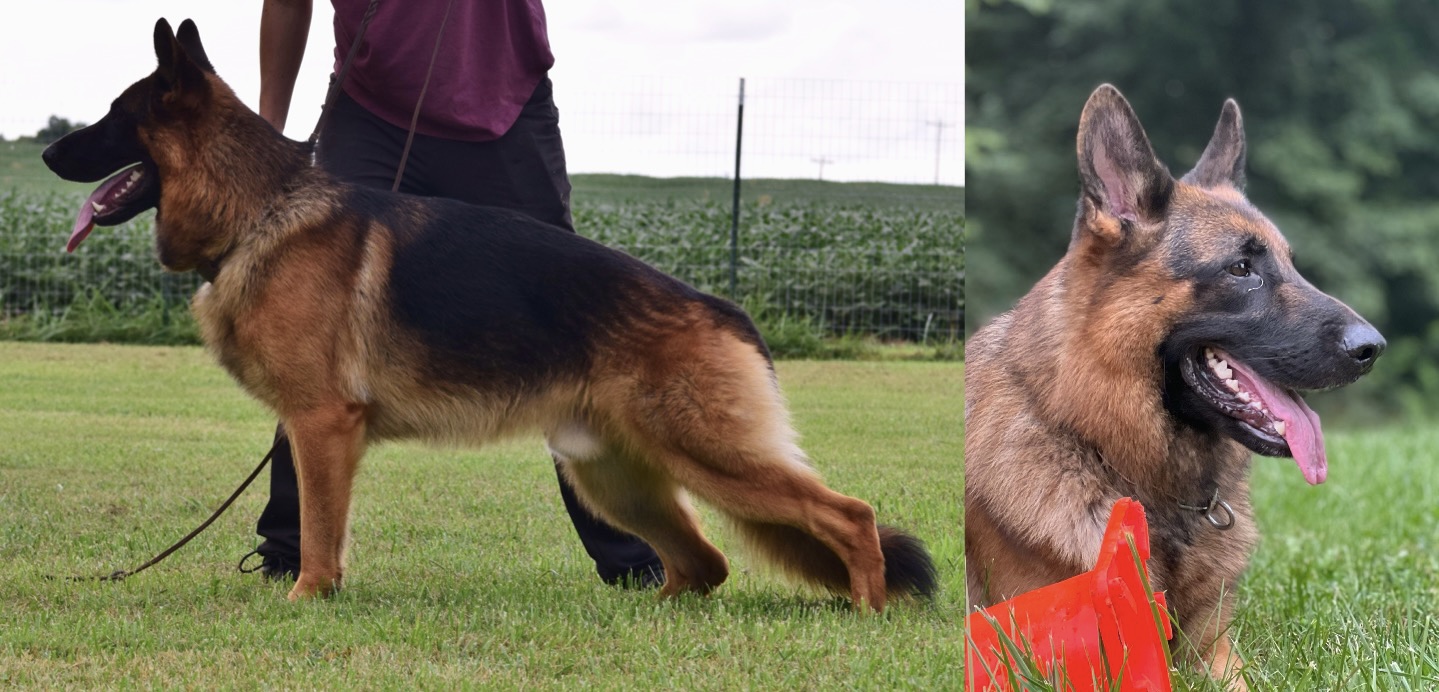 VP3 (Regional championship) Loki aus Gerstbrei BH BHOT a stamp hips and elbows LUW0
Loki is a very special male to me. He encompasses both of my female lines into one dog that is as beautiful as he is driven, social, caring towards children and puppies, and has an incredible bond with me. Loki is everything I wanted in a male showline German Shepherd. He brightens everyone's day that he meets and he sure makes the world a better place with his goofy hilarious personality. Loki has incredible drive in all 3 phases of IGP and he is also a wonderful house companion. He has puppies in sport homes, service dog homes, and family homes with small children. I love this boy!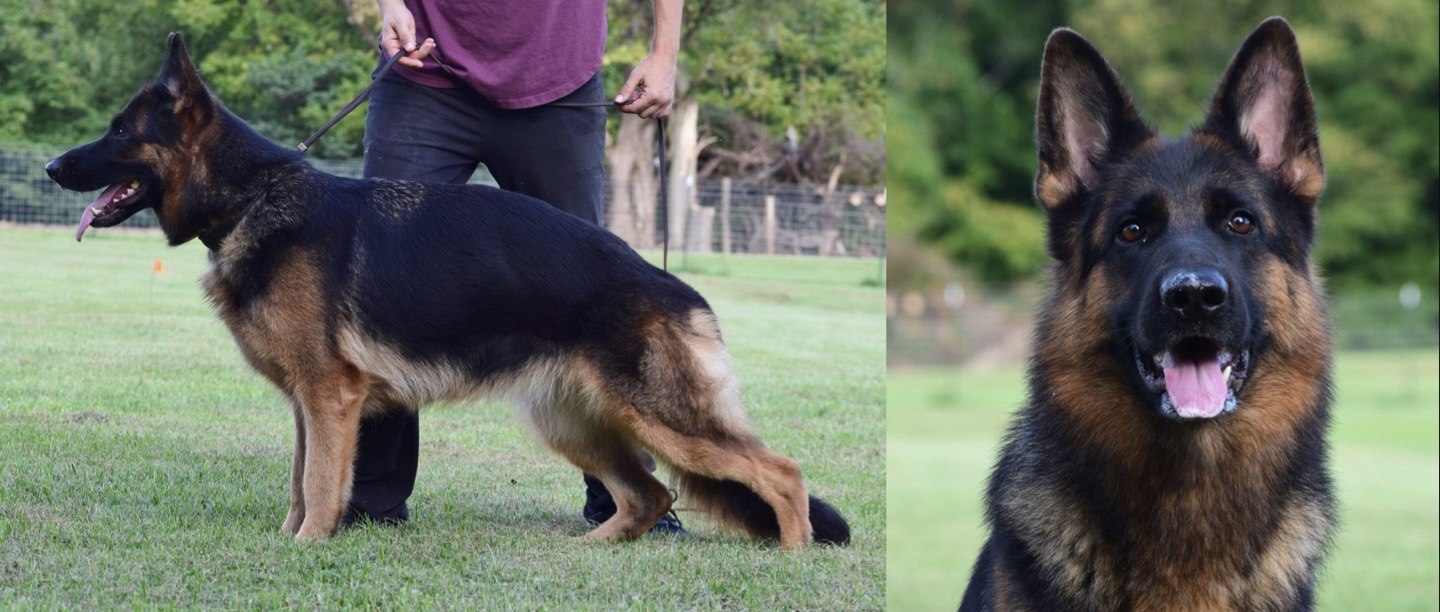 Ava von Buchmann IGP1 ANG a1 hips and elbows LUW 0 DM clear!
Ava is a joy to live with and is one of the most beautiful German Shepherds we've ever seen. Everyone who meets her just falls in love with her beauty and her temperament. Ava gets along with all dogs both male and female and loves all humans she meets. She still alerts at the door when people knock but is very open and friendly with guests. Ava is loving our new home in Indiana and is such a homebody. She is also very eager to please me which makes her a fun dog to be around and to train. Ava is a granddaughter of my very special imported male Orka von der Urbecke Schh3 FH1 RH1 (son of the famous VA and universal sieger Bazi von der Urbecke) so I am very proud to have her here as a part of my family and my breeding program. Ava's puppies encompass her beauty and her disposition. I am so happy to be raising one of her daughters, Jazzy who has both her looks and personality.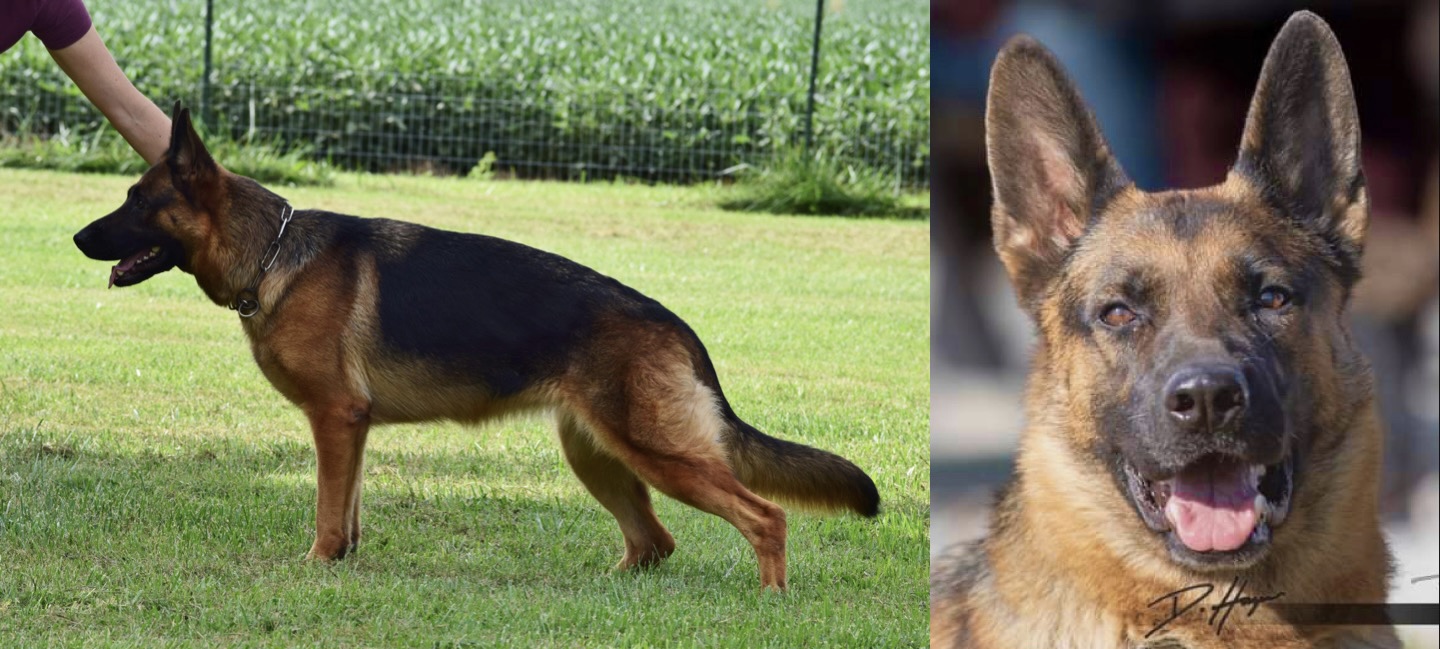 Eika aus Gerstbrei IGP1 AD BHOT A1 hips and elbows 
Eika, daughter of my homebred and retired competition female, Ivana, is a very social and sweet female with nice full grips and outstanding tracking. Eika is a brain. You show her something and she's got it! She is quite the problem solver figuring out on her own how to open doors and latches. She's very bonded to me and also is taught mobility tasks for when I have dizzy spells from my epilepsy. Eika is a very stable female that can go anywhere. She is neutral to dogs, loves attention from people and is very calm in the house. She has produced both service dogs and companions in her first litter. Eika lives for tracking in her IGP career (which is reflected in her high score on her IGP1) so we have future plans to do FH titles like I did with both her mother and her father. I have trained and titled most of her pedigree myself so I am looking forward to training an Eika daughter in the future.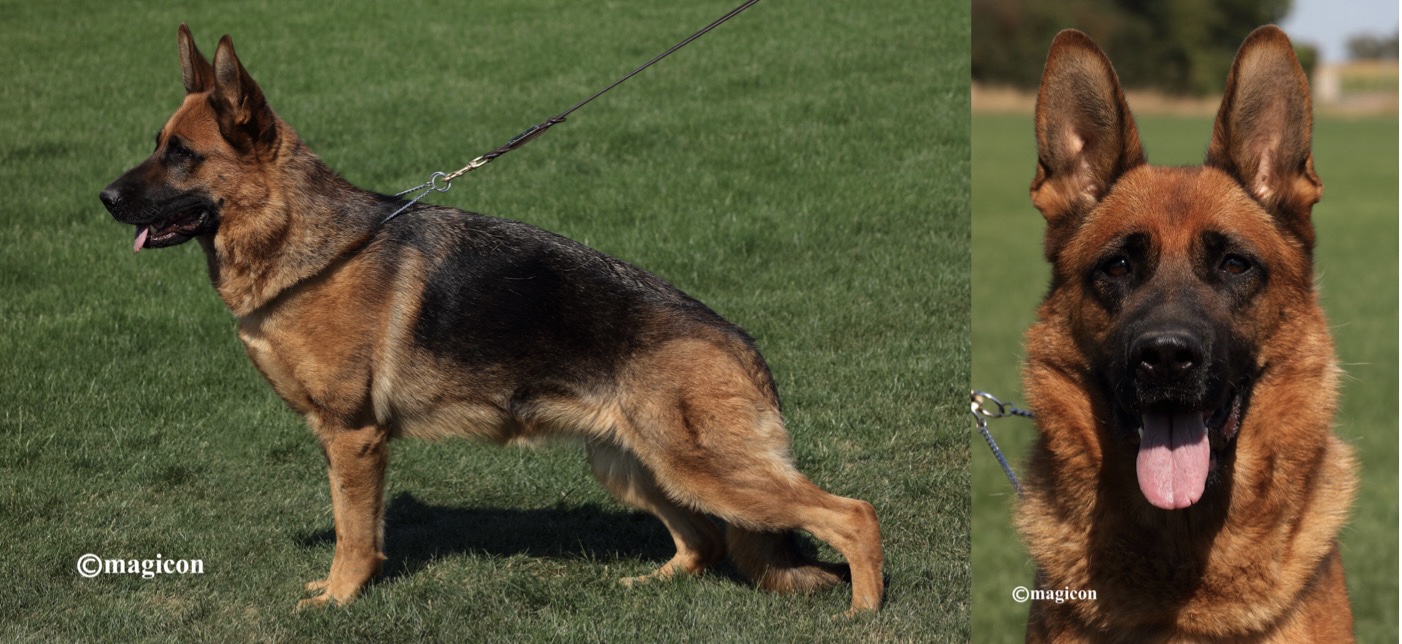 V3 (regional show in Germany!!) Harpy aus Gerstbrei IGP2 ang a1 hips and elbows LUW0 DM clear
Another daughter of my wonderful home bred Ivana.. Harpy is our flier in the show ring. She loves to show off her movement and so do her puppies! Harpy is a very large female German Shepherd  with a lot of bone. Not only can Harpy bring it in the show ring but she's got personality to match! She is a very self confident and playful female which she throws in her pups. In the work Harpy has a lot of flash in her heeling and excellent ball drive. Her bitework is also very nice as she has full hard grips. Harpy's litter brother Herros is training with his owner in the United States and they are about to go for their IGP3! Very proud of my H litter aus Gerstbrei!
Our Spoiled Retired Dogs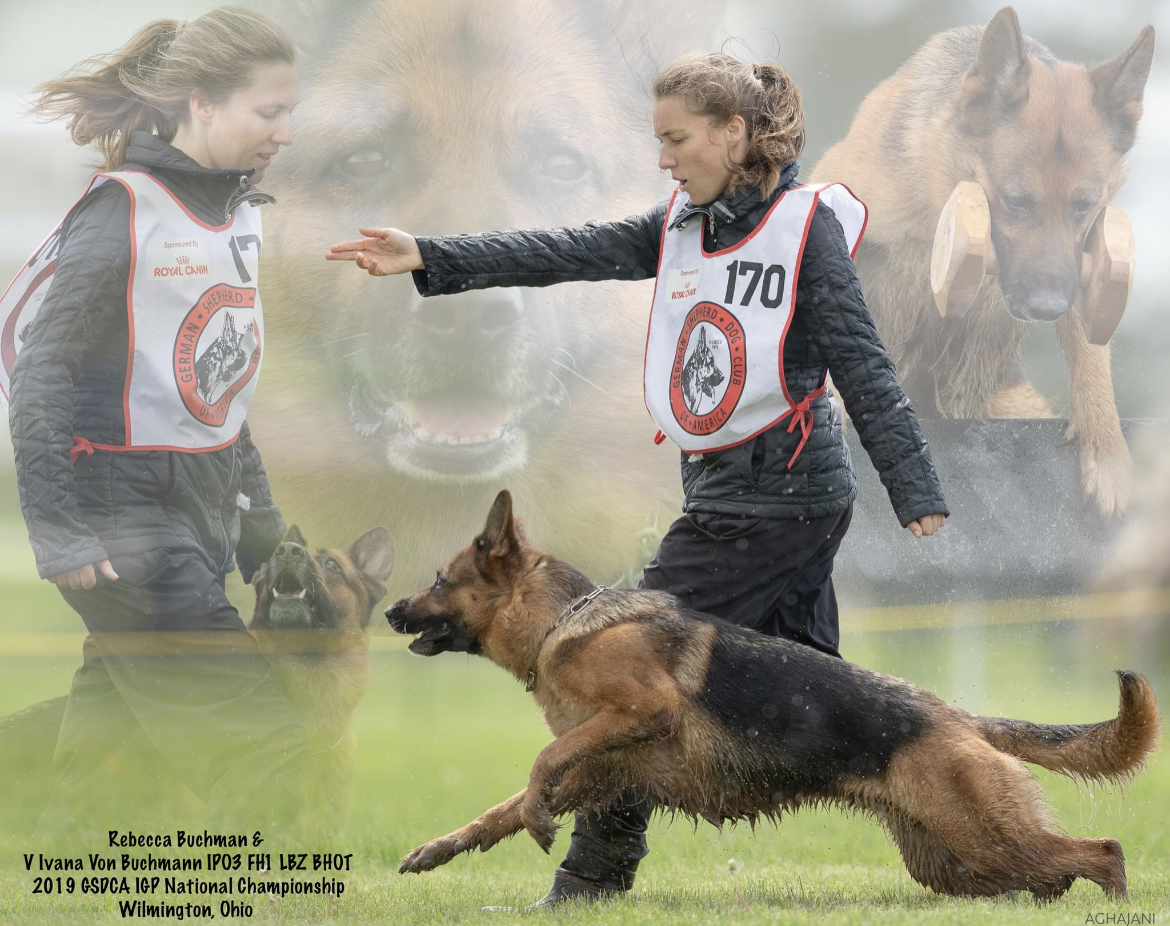 V2 Ivana von Buchmann IPO3 FH1 CGC BHOT LBZ a stamp hips and elbows!
Ivana is the queen she is still doing very well at over 10 years old.  She did her very last competition at 9 years old and has won many highs and trophies in IPO. Ivana has a huge heart and soul for the work. She did just about everything I asked of her and is just a very special female… and one of the only showline females in the United States that was able to compete at a national IGP3 event. Ivana now keeps the couch warm and helps raise her grandchildren. Ivana has stamped her working spirit in her progeny here in my program.
Originally from Michigan, Here at Aus Gerstbrei German Shepherds we have top quality German shepherd puppies for sale raised in our Indiana home. Puppies are started on crate training and are socialized with every day prior to going to their new homes. We are an hour from Indianapolis Indiana and 35 minutes from Bloomington Indiana.