All of our puppies are from health tested and titled parents and go home with a health, hip and elbow guarantee. Our puppies are started on crate training and house breaking at 6 weeks so they adapt much easier to their new homes at 8 weeks. We mainly breed black and red west German Showline German Shepherd puppies but will sometimes have sables and solid black.  Our dogs go to mainly family homes but we also have dogs in search and rescue, service dog homes, competition homes, and dog sport homes. Please inquire at [email protected]

Our Last litter with our Ava was born December 3! 2 girls and 4 boys.


Loki and Ava, the parents to our new litter!
Loki is a very good choice for a last breeding for our beautiful Ava. Loki is also a beautiful dog and has outstanding temperament with puppies in family homes, service dog homes, and some in working dog homes. Loki just adores children! More on these amazing parents can be found on "our dogs" page. We are now accepting deposits. Ava puppies always go fast so please inquire by email or phone! [email protected] or 586-610-8436. We expect both stock coats and long coats.
Our Harpy and Enoks litter is due December 12!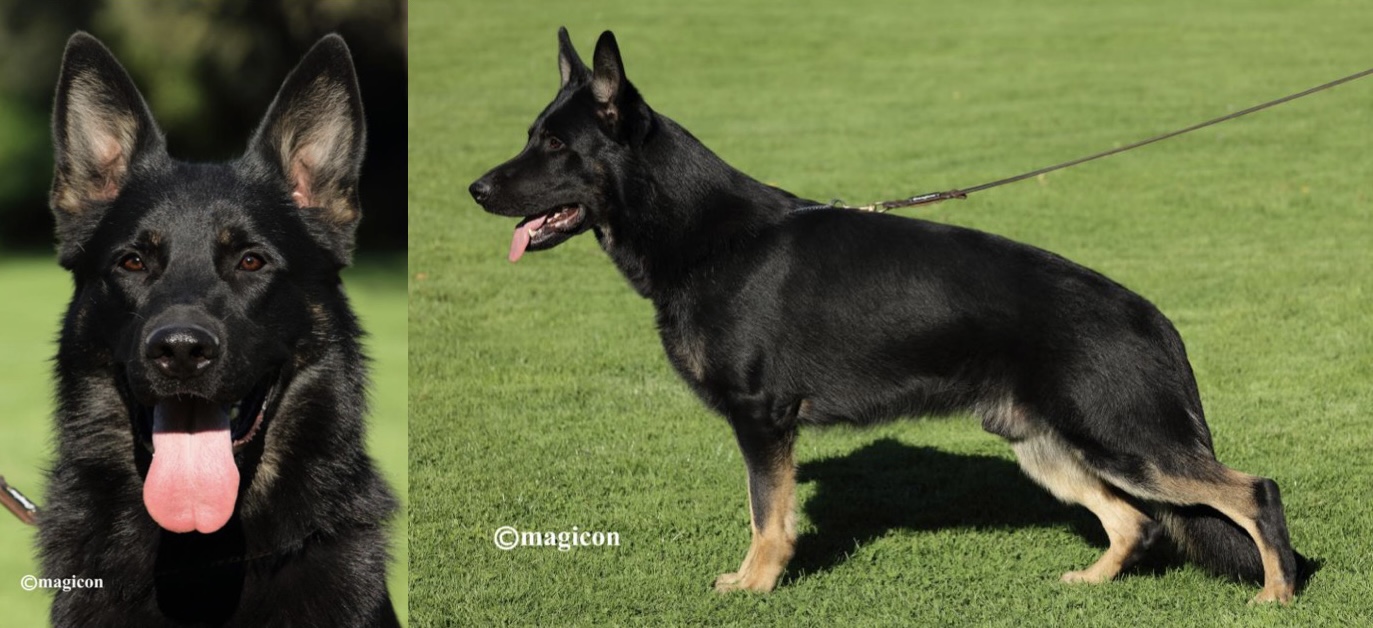 Dad: SG Enoks von Buchmann IGP3 ang, a1 hips and elbows LUW 0 DM clear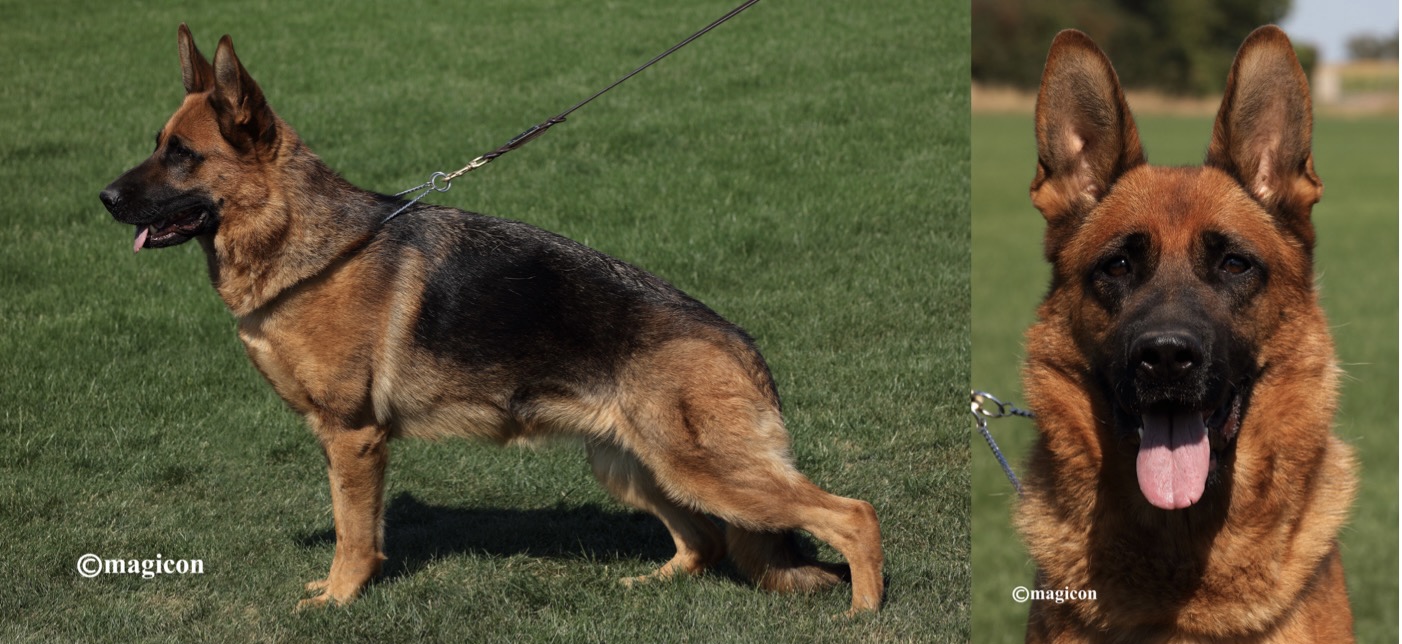 Mom: V3 (regional show in Germany) Harpy aus Gerstbrei IGP2 ang a1 hips and elbows DM clear. 
We have bred our gorgeous bi color German shepherd, Enoks to a few of our females and we expect puppies December! Our beautiful Harpy was one of these females. We expect very stable temperaments with excellent social puppies and rock solid nerves. These puppies will be gorgeous with huge heads and nice structure. Both Harpy and Enoks are also DM clear. More can be found about the parents on Our Dogs page. Please inquire about these breedings or if you want to get on a waiting list! [email protected] or (586)610-8436.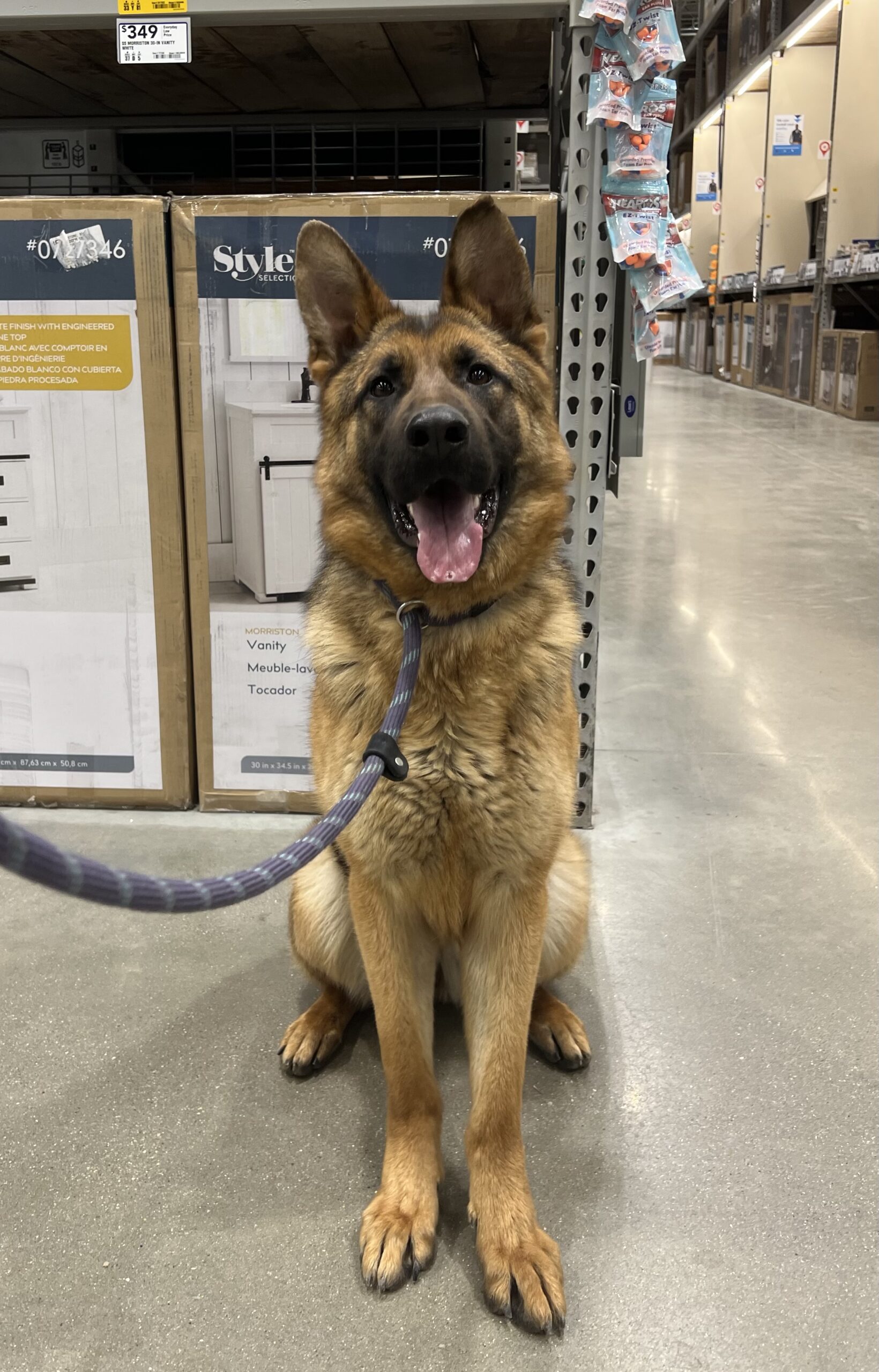 Talon
Talon is a beautiful 18 month old black and red female that is very large in size with a beautiful HUGE head and a very nice set of hips and elbows. Talon is mostly if not all the way housebroken and crate trained as she was raised in my house. She loves to play ball and spend time with her human. She loves walks in the woods and doesn't take off. She is a sweetheart with strangers and is well behaved in store visits. Talon is a very loving female and she's been around kids 7 and up and has been great but we haven't had any toddlers to expose her to. She is great with male dogs and will play with them until they drop. Talon is overall a medium drive rather easy female to get along with and has been a very hard decision for me. Her little sister has a little more drive for the work I do.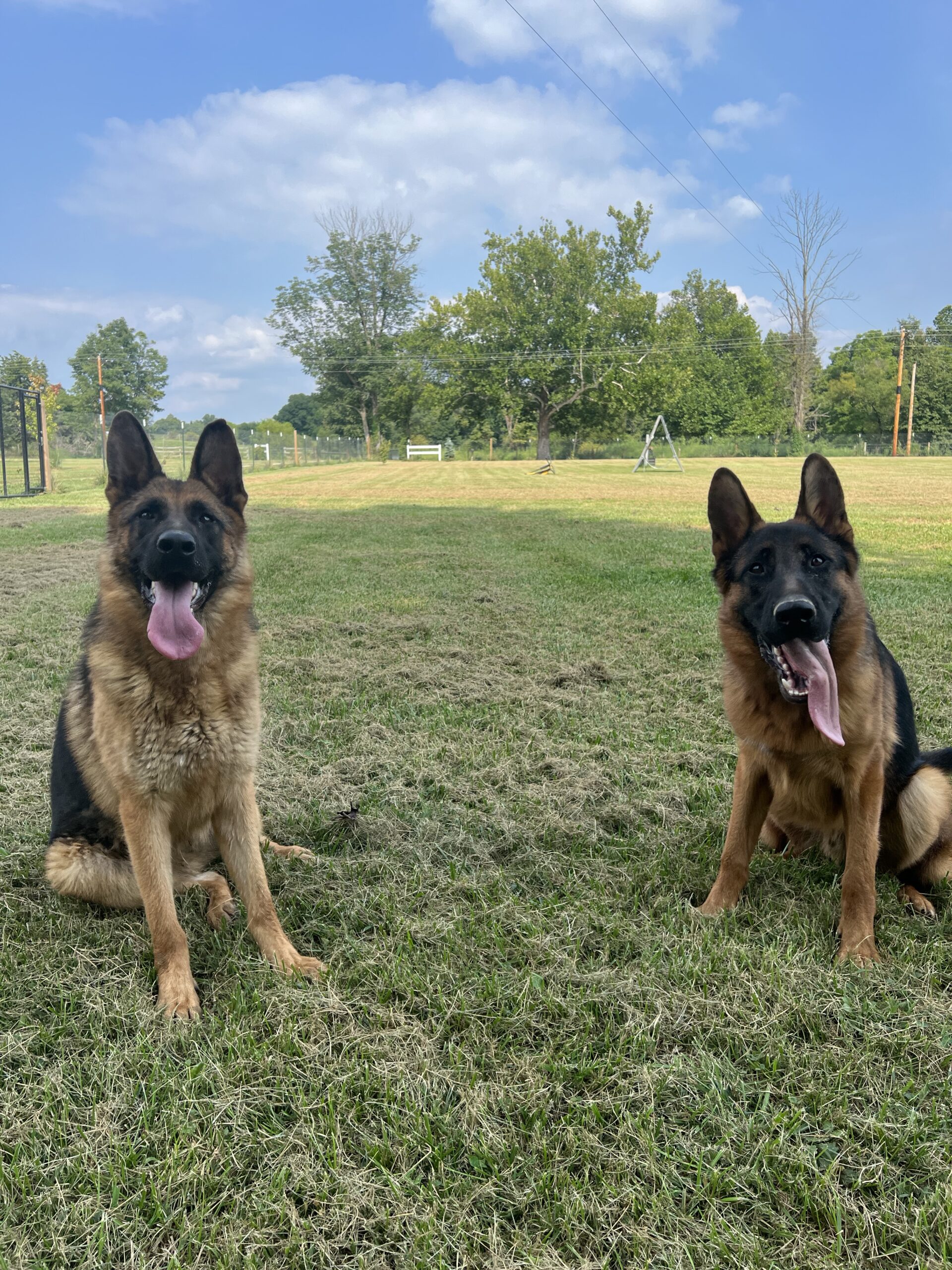 Talon and a younger Vyper.
We have a litter due beginning of December, please inquire for more information!
Please check back for future planned litters this year!
Here's how we're different from most Indiana German Shepherd Breeders:
Our German shepherd puppies are born in our house, where they are constantly watched and handled by us from birth.
Our mother dogs are our pets and family. A happy stress free momma dog makes for healthy happy puppies!
As they begin to hear and see, they are exposed to household sites and sounds that are similar to any busy family's.
Our Puppies are handled many times a day, so they are used to human contact.
After they get their first shots, we invite family and friends over, which includes young children.

Baby Loki next to my nephew and baby Lexus to the far left playing

At this time, we also start introducing them to car rides and new places so they adapt easily into their new homes. Because of this early exposure our puppies just haven't been car sick.
At six weeks old, we start crate training and housebreaking our young puppies and continue until they go home.
Our puppies are health-checked by our Vet before they go to their new homes.
we retire our females from breeding under 6 years of age, having a limited amount of litters per female to ensure their health and happiness as well.
We are not a kennel, but a small breeder in Indiana who cares about our German Shepherd Puppies and their families.
German shepherd puppies in Indiana, Indianapolis area! We are an hour from Indianapolis and 35 minutes from Bloomington, Indiana
Not seeing what you are looking for? Please also check out my mother's site in Michigan! She has been breeding since 2010 and has some wonderful dogs of the same bloodline as me she is currently training and competing with Von Buchmann German Shepherds